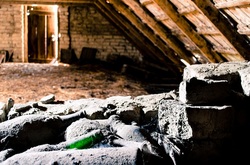 For a home seller, life is moving a mile a minute. They're concerned with keeping their house in pristine condition for
last-minute showings
. They're
packing boxes
, lining up movers, and planning for their next home. Add
"prepping for a home inspection"
to that list and the stress builds.
At
Insight Inspections, LLC
, I understand all of that and as a home inspector,
it's part of my job to make the home inspection process the least disruptive as I can for home sellers.
Here are a few tips for home sellers to follow that will make the home inspection process easier on everyone.
1) Access: The kitchen pantry in my own home is a prime example of a difficult-access issue. Because of the deep shelves, our pantry stores plenty of food, but it also blocks access to the attic, which
a good home inspector will want to check out
. In this case, clearing out the pantry of items and shelves gives clear access to the attic.
A home inspector doesn't want to disturb your personal belongings
so it's best if you can keep clear access to attics, crawlspaces, heating systems, garages and all other areas of the home that will be inspected. This includes closets as many attic accesses are found in closets.
2) Utilities: A house isn't always occupied at the time of the home inspection. If a home is vacant, the home buyer and/or real estate agent/Realtor should
confirm that all utilities are turned on
, including water, gas, and electric as well as all appliances such as the furnace, air conditioner, and water heater. For liability reasons,
a home inspector cannot turn on these utilities
. For example, I inspected a home recently in which the water was turned off at the meter. The real estate agent pushed me to turn it on, which I declined. He then turned on the valve at the meter, and water came gushing out of the washer hookup. There was a reason the water was off to the home, which is why your home inspector will not turn on utilities. When the utilities are not on, this makes for a less complete report for the home buyer as I cannot check many systems and appliances without the utilities being on.
3) Breakers: It's also helpful for home sellers to make sure all of the electrical breakers in the main panel are turned on. Again, if I come across a breaker that is turned off, I cannot turn it on for safety and liability issues. If any of them are flipped off, it's helpful for the home seller to leave a note explaining why.
4) Light bulbs: Have you ever tried hunting for an item in a dark, unfamiliar basement? I did recently when trying to complete an inspection in a basement with no lights.
While I was prepared
(as all home inspectors should be) with flashlights, it makes the job more difficult when there is insufficient lighting in a home.
Bottom line: When you're selling your home and you have a visit from a home inspector, you (understandably so) want them in and out with the least amount of disruption. That's my goal, too.
Home sellers, real estate agents, and home inspectors can work together to make that happen.

If you or someone you know needs a home inspector, I encourage you to Google "Home Inspector Wichita" and compare reviews of Wichita-area home inspectors. You'll see we have more 5-star Google+ reviews than all Wichita-area home inspectors combined.