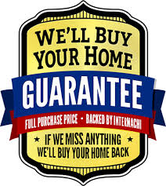 For this blog, I'll share a story about a recent client. We'll call her Nancy.
Nancy was ready to close on a nice home in east Wichita when she called me to complete the home inspection. When I got to the house, I was greeted by Nancy and her son. I started on my inspection of the property, and Nancy followed me closely, which I encourage clients to do so they can
ask questions
and we can
discuss defects
as I complete the inspection.
She was full of questions and a bit skeptical of the home inspection process. After I completed the inspection and we were talking in the kitchen, I learned why Nancy felt uneasy.
She finally told me she was concerned that if I missed any items on my final report, she would be stuck with repairs that could have big price tags. She said she had a bad experience on her last home and ended up paying for some expensive repairs. I completely understood where she was coming from.
That's when we began discussing the
International Association of Certified Home Inspectors (InterNACHI)
Buy Back Guarantee program
, which I participate in (
I'm also InterNACHI certified
). InterNACHI understands the
financial commitment
that comes with buying a home. In addition, the organization is so confident in the training and certification required of its inspectors (i.e. me) that they give home buyers a worry-free, buy back guarantee.
How it works: If I miss any defects on your home inspection report,
InterNACHI will buy back your home
. InterNACHI knows buying a home is a
huge financial decision
and provides the buy back guarantee to help home buyers feel more secure. Other home inspection organizations don't offer this benefit so take it into consideration when choosing your home inspector.
The fine print:
- InterNACHI honors the guarantee for 90 days after closing
- InterNACHI will pay the same price you paid for the home
- The guarantee excludes homes with material defects not present at the time of the inspection or defects that are not required to be inspected per InterNACHI's residential standards of practice.
- InterNACHI doesn't collect identifiable consumer data. No data is sold or released to any third party.