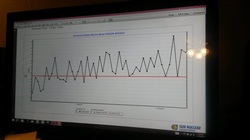 There's been a lot of talk about radon this month as November is designated as
Lung Cancer Awareness Month
. As you know from my previous posts, I'm a big advocate of radon testing, especially after I found out our home has high levels of radon (which we're in the process of mitigating – we'll share more about that soon).
Local NBC affiliate
KSN
aired a great
story
last week about the importance and need for radon tests. In addition to informing people what radon is, where it comes from, and why radon is dangerous, it touched on the two types of radon tests: do-it-yourself kits and professional tests from a certified radon technician (like myself).
Here's a breakdown of the differences so you can choose the best test for you:
Do-It-Yourself radon tests



Often referred to as charcoal kits, you can purchase them at most home improvement stores

Set it up in the home and after 72 hours, mail it to a laboratory out of state for results

Results take approximately 5 to 10 days to receive, depending on where the lab is located

User is responsible for correct set up as well as correct monitoring and sending to lab

Cost about $9 to purchase and about $10-$15 to overnight to the lab

Results do not qualify to be used in a Kansas real estate transaction


Tests by a certified radon technician


Professional-grade radon measurement test. I use a Sun Nuclear 1028 Continuous Radon Monitor calibrated annually

Machine is set up in the home for 48 hours of continuous monitoring. Machine takes a reading once every hour. Results available immediately
Radon technician can send results immediately. Results include graphs as well as highest, lowest, and average levels of radon during testing period

A state-trained and certified technician is responsible for performing test correctly

Cost about $100

When completed by a certified radon technician, these are the only results that legally qualify to be used in a Kansas real estate transaction.
Radon is the
second leading cause of lung cancer
so safety is the #1 priority. No matter which test you choose, I encourage everyone to test for radon. If you're interested to know radon results immediately, give me a call or text to make an appointment.