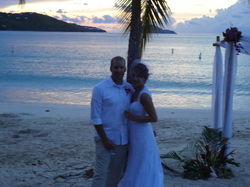 It's been a little while since our last blog post, mainly because Cari and I were finishing last-minute wedding details. After a great wedding and honeymoon in the U.S. Virgin Islands earlier this month, we're glad to be getting back to business. As if our wedding wasn't excitement enough, we returned home to Wichita to learn the
Kansas Department of Health and Environment
(KDHE) approved my application to perform radon tests!
This is quite an accomplishment as the application process was extensive – I spent several weeks preparing the 100+ page Quality Assurance Quality Control document that outlines exactly how I will conduct radon tests, prepare the information, share the results, and maintain that part of our business (that's in addition to the hours of studying and courses I completed through my alma mater,
K-State
).
Radon testing is important, and I encourage every homeowner to have his or her home tested. That's coming from a homeowner myself, as well as a home inspector. Once I received all of my radon-testing equipment, I tested our house and found we have significantly high levels of radon. I think about it all the time when we're in the house, knowing that we're breathing in radon gas. (To give some perspective, KDHE recommends mitigating radon when the levels are 4 pCi/l or higher. Our home spiked at levels of 10 pCi/l with a 48-hour average level of 5.1 pCi/l.
Did you know that your chance of developing lung cancer increases dramatically if you smoke AND have radon in your home? In fact, radon is the leading cause of lung cancer in non-smokers. For more information on radon-related cancer, visit the
Cancer Survivors Against Radon
website.
Now that we know we have a radon problem, mitigation is top on our list. We'll keep you updated on the process. And if you'd like your home tested (which I highly recommend for your family's safety), give me a call or text today: 316-570-0549.