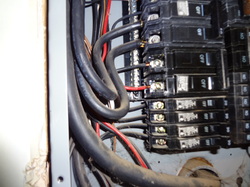 There are many myths when it comes to home inspections. In this blog, I'll take time to dispel some of the biggest myths I've heard.

Myth #3: All home inspectors are the same.

Take a minute to think about what you do for your day job. Are you a writer? A lawyer? A mechanic? Regardless of your industry, you are an expert in your field.

The same goes for home inspectors. Many people have an interest in home repairs and may have a good amount of experience with them; however, that doesn't mean they are the best choice to perform your home inspection.

I am passionate about home inspections and have extensive training, certifications, and tools so you know I'm doing the job right. Certified by the International Association of Certified Home Inspectors (InterNACHI), I'm bound by its strict code of ethics. And while InterNACHI has its own Standards of Practice, mine exceed those.

I've also invested thousands of dollars in state-of-the-art home inspection tools and software.

As is similar with other products and services, consumers often get what they pay for. A cheaper price may not mean the best home inspection. I know from experience. When Cari and I bought our house, the home inspector missed several large defects. For example, we had a Federal Pacific electrical panel, which had been recalled years ago as well as several open junction boxes in the attic. Don't let the same happen to you.

Call or text me today to schedule a thorough home inspection. 316-570-0549.