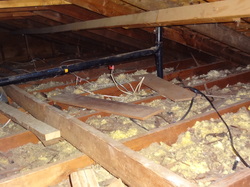 There are many myths when it comes to the home inspections. In this blog, I'll take the next few weeks to dispel some of the biggest myths I've heard.

Myth #2: An appraisal is the same as a home inspection so I don't need both.

If a real estate agent, appraiser, or home inspector tell you this, I suggest finding a new team to help you in your housing purchase. An appraisal and a home inspection are vastly different, and while you need both during the home buying process, the two services provide completely different information.

An appraisal places a monetary value to the property. That value is based on the housing market in your area – looking at recent sales for similar properties in the area. Yes, the appraisal does take the property's physical condition into consideration but on a very limited basis. For example, if you remodeled a bathroom, that improvement will be considered in your appraisal and increase the value. The appraiser, however, will not check the electrical or plumbing to ensure they are done correctly.

A home inspection gives you a view into the inner workings of your potential home. Is the heating system working properly? Is the electrical panel up to code and safe? Is the foundation rotting because of improperly directed rain water? These are just a few of the hundreds – yes, hundreds – of items I look for at EVERY inspection. These are also items an appraiser will not look for. There's nothing wrong with that; it's just not an appraiser's job.