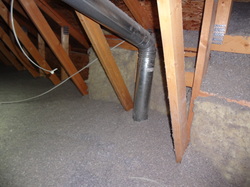 There are many myths when it comes to the home inspections. In this blog, I'll take the next few weeks to dispel some of the biggest myths I've heard.

Myth #1: New construction doesn't need inspected

Have you ever bought a piece of furniture or other item that requires assembly? When you pull out the instructions, they remind you to check that all of the parts are in the box and free of damage. Now, be honest, how many of you haven't checked for all of the parts and found that -- when you have what seems like a million pieces spread across your living room floor -- you were missing an item?

This is a prime example that just because a chair -- or a home -- is brand new, it can still have defects.

Recently I completed a home inspection on an award-winning home in Wichita. It was a beautiful model home that recently went on the market. Now, you think that because no one ever lived in the home, it would be in perfect condition, right? Wrong. While the construction was done well and the home was beautiful, it's impossible for any home to be 100% free of defects. Some of the items I found included:

- Improper drainage around the foundation;

- An improperly installed electrical breaker in the main panel;

- Less than one inch of space around the water heater and furnace exhaust pipe (despite the manufacturer's notice printed on the pipe)

Today's lesson: A home is too big of a purchase to make without gathering all of the information possible. No matter how old the home -- five days or five years -- homebuyers should protect themselves and their investment by hiring a professional home inspector BEFORE making the purchase. And even though new homes often have warranties, what you don't know about can't be fixed.

Call or text us today to schedule your new home warranty inspection: 316-570-0549.