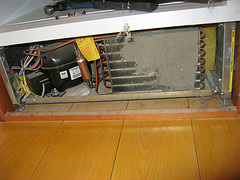 At long last, most of the country is looking with relief at warmer weather. Those who have been trapped inside their homes to survive the cold now get to rediscover what it means to be outside again.

Spring is also a good time for homeowners to take stock, review the damage the winter season has wrought, and do a little spring cleaning. These spring home maintenance tips can help you avoid bigger repair bills down the road.

1. Clean All Vents and Filters
A dirty vent or filter limits the benefits that device has on your indoor breathing air and on appliance efficiency. A plugged vent wastes money and can even cause a house fire. Vents to be cleaned this spring include:
Dryer vents
Heater vents
Air-conditioning vents
Roof vents
Take a little time to go around your house and clear all the vents. While you're at it, clear overgrown vegetation from around your air conditioner compressor to ensure good airflow.
Inspect around the vents carefully because animals like to take advantage of them to get inside your home. If anything looks strange, you may need to research a little further to be sure your attic isn't infested with a warm family of squirrels or bats.
2. Get a Roof Inspection
During the winter months, your roof has a very important job – keep the family inside warm and safe, and keep weather out! After a winter such as we've had, it's a good idea to ensure there are no leaks, no flashing problems, no necessary work to be done because if work needs to be completed, you'll want to schedule it quickly. After all, it's likely that your roof isn't the only one in the neighborhood that needs a little TLC.
Even if your roof is in relatively good shape or new-ish, spring is the perfect time to have a roof inspection. Depending on your own experience and skill, and the design of your roof, you may want to skip the do-it-yourself route for safety reasons.
3. Tend to Inside Appliances
The appliances inside your home – water heater, refrigerator, dishwasher – have a list of maintenance tasks that, if done on time, can improve the longevity of the appliance and minimize expenses for you. You should inspect them periodically.
Clean the refrigerator coils
Drain the water heater
Inspect and clean the dishwasher – including the filter