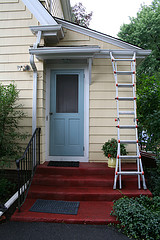 As a home buyer, the purchase of your home is one of the biggest financial decisions you will make and, of course, you want to be well-informed before you make that decision. When it comes time to choose and hire a home inspector, there are a number of questions you should ask, including:
How long will it take?
What will the home inspection cost?
Does the home inspector have the proper experience, credentials, insurance, etc.?
Before your home inspector begins the inspection, you should ask:
What does your home inspection include?
If the inspection is initiated by the homebuyer, the home inspection should cover all of the home's major systems, including heating and cooling, plumbing, and electrical, as well as the structural elements of the home, including roof, foundation, walls, etc. Inspections initiated by the home seller are usually done prior to listing the home, and these are a great way to be open and fair about the home's condition and value – often increasing the home's chance at a faster sale. See a full listing of our
home inspection services
.
What type of home inspection report will I get when you're finished?
While professional home inspectors can provide a number of different types of reports, you should never accept a verbal report. You should receive a fully documented, written report as a record of the home inspector's findings. All of my reports also include results of carbon monoxide tests. See an example of the
home inspection report
you can expect from me.
What kind of equipment will you use to do the home inspection?
A professional inspector should have and use the most up-to-date equipment available, and with my inspections.
Will I be able to attend the home inspection?
Absolutely! You should be 100% suspicious of any home inspector who hesitates to have you along during the inspection. The home inspection is an educational opportunity and a chance for you to dig around and understand the home you are about to buy.