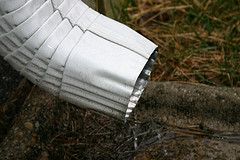 As we've all seen, 2014 has been one of the snowiest winters in recent years, and all of that snow will eventually turn to water as it melts. Water is the single most destructive force inflicted on your home's foundation.

Keeping water away from your foundation is critical to avoiding serious issues inside your home. If your lawn has significant moisture, the basement or crawl space walls can erode, crack and even break under the pressure of the moisture. In addition, high moisture levels can cause mold in basements and crawl spaces.

Here are are simple improvements you can make to keep water away from our foundation.
1. Clean Gutters

Gutters are only useful if they are cleared of debris. In the fall, gutters can fill with leaves, small branches, and other junk that can clog the drainage and cause problems with your roof. In addition, clogged gutters are a big source of moisture intrusion into your attic, which can lead to increased energy costs due to soggy insulation.

2. Lengthen Downspouts

If you have rain gutters, extend the end of the downspout to point the water farther away from your foundation. This can be easily accomplished by adding extenders to the end of your current rain gutters to pour the winter meltoff into flower beds and your lawn where it can be absorbed or drained away from your foundation.

3. Grade the Lawn Around Your Home

Water drains into the lowest spots in your lawn. If those low spots are near your house where water can pool next to your foundation, you need to grade the lawn. This means building a gradual slope that leads away from your home. In some cases, this can be done with a french drain, which is simply a trench filled with gravel or rocks that drains the water away from your foundation. If you already have french drains installed, be sure to clear them of debris, leaves, branches, etc. to encourage the water to flow.

4. Add a Dry Perimeter Around Your Home

Many people like to plant flowers, bushes, and other plants next to their foundation as ground cover, but this only increases the moisture next to your foundation. Ideally, you are better off adding a layer of weed deterrent fabric around your home and covering that with a two- to three-inch layer of sand and gravel. This will allow water next to the foundation to be expended and keep water draining away from your foundation.

5. Selectively Plant Thirsty Landscaping

Thirsty plants that are planted away from your home can draw the water away from your foundation, too. In drier months, you may have to water that thirsty landscaping, but in wetter months, you will have the peace of mind knowing that water is being naturally pulled away from your home. Talk with a local nursery about thirsty landscaping that can draw water away from your home.

Proper grading, correctly positioned downspouts, cleared gutters, and other factors can significantly improve the water flows through and around your home and keep more water away from your foundation.